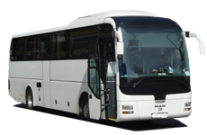 Bus charter service
Sightseeing bus tours
Coach transfers
Bus excursions
Bus trips
Legal notice
About the city of Aachen
Aachen is a 160km² city in North Rhine-Westphalia, Germany, located directly on the border to Belgium and the Netherlands. The name "Aachen" comes from Proto-Germanic language: the city was originally called Ahha, which means "water".
Back then, Aachen was especially famous for its highly sulfurous hot water sources. Nowadays, some of its sources are still working. They are said to cure such illnesses as rheumatism. Aachen is a spa town, yet not many people know it, for it does not usually go by its full name: "Bad Aachen".
There are 7 urban districts in Aachen - Aachen-Mitte, Brand, Eilendorf, Haaren, Kornelimünster/Wahlheim, Laurensberg and Richterich - subdivided into 50 sub-districts. Nowadays, about 244,350 inhabitants live in Aachen's 160km².
Bus rental in Aachen
Together with the bus operating network of tour operator City Tours, Aachen Bus offers tailor-made bus charter services in Aachen, in North Rhine-Westphalia, everywhere in Germany and all over Europe. Among others, Aachen Bus enables you to book appropriate buses with drivers for the following charter bus services:
Sightseeing bus tours in Aachen: discover Aachen's main sights during a bus tour together with an English-speaking professional guided tour from Aachen - and save time in your visit of the city!
Bus transfers from Aachen: charter comfortable minibuses or motor coaches with drivers for your bus transfers in Aachen, from Aachen and to Aachen - and be sure you will have a safe and comfortable trip to your destination in a vehicule driven by a reliable local bus driver.
Coach excursions around Aachen: book various buses with drivers for your sightseeing bus excursion around Aachen. Use the extended know-how of Aachen Bus's bus rental team for the planning of your sightseeing programme.
Bus travels starting from Aachen: charter buses for your bus trips in Germany and all around Europe and get advice and assistance from the City Tours team regarding the programme organization.
Contact to Aachen Bus
If you want to rent a bus or to organize a bus transportation in Aachen, Germany, please send us your request at . A member of our team will get in touch with you in very little time and advise you regarding the reservation of bus transfers, sightseeing bus tours, bus excursions and motor coach travels with driver service. The entire team of Aachen Bus is looking forward to your email!